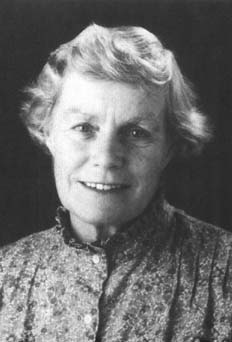 This week saw the passing of Adelaide botanist and conservationist, Enid Robertson.
Over the years Enid was associated with the Native Orchid Society of South Australia (NOSSA) both as a speaker and leader of field trips. A notable contribution to NOSSA was to alert the Society in 1989 about the invasion of the South African weed, Monadenia bracteata (Syn Disa bracteata).  In 1990, she was involved in a Monadenia bracteata eradication campaign.
Reproduced below is an article written by Enid published in the Native Orchid Society of South Australia Journal, Vol 15 No 8 September 1991
Monadenia bracteata
THAT AFRICAN WEED ORCHID AGAIN
Enid Robertson
I heartily endorse "C.H's" sentiments in the article "If it is meant to be …" in the August issue of NOSSA Journal (Vol. 15, No.7) in which was said, "By removing these weeds from the areas of least infestation when out on our walks and as an ongoing project, we can all help keep our scrub in the beautiful way it is supposed to be." This encourages me to bring our latest horror species to your attention yet again.
That weed-orchid, Monadenia bracteata, will be emerging from tubers late September and early October. Let's literally nip it in the bud.  Total eradication (not just control) is required.  It would be a terrific achievement if we could prevent this latest African invader from taking over. Last year 100's of plants were removed and destroyed before seed set.
Further vigilance and action is required this Spring. More help will be needed to monitor every locality where plants have been previously found and to remove any plants that
sprout from tubers remaining in the soil.
This weed-orchid is yet another exotic plant to invade our diminishing remnant native vegetation. It is occupying space that belongs to Australia's already threatened little understorey plants. As the weed-orchid produces thousands of tiny wind-borne seeds each season new infestations could occur some distance from known sites. It favours grasslands and woodlands, particularly disturbed areas, not dense sclerophyll bushland. However it has been found infiltrating into sclerophyll scrub from disturbed borders and along firetracks.
Since first recorded in South Australia in 1988 the weed-orchid has been reported from Aldgate, Belair (including Belair National Park), Blackwood, Bridgewater, Chandlers
Hill, Cherry Gardens, Coromandel Valley, Craigburn Farm, Echunga, Eden Hills, Onkaparinga Recreation Park, Panorama, Scott Creek Conservation Park, Shepherds Hill Recreation Park, Sturt Gorge and three localities north of Adelaide: One Tree Hill, Mt Gawler and Mt Crawford Forest.
What is it like? It has a rosette of long narrow green leaves, often with a reddish tinge on the underside, which appear from the underground tuber in Spring (about October).
The flower spike is 15-30 cm tall and is clothed all up its stem with a series of overlapping narrow green leaves. It has up to 50 tiny flowers, brown to maroon in colour.  The flowers are self-pollinating and produce prodigious quantities of dust-like seed.
Seedling Monadenia bracteata plants do not flower in the first year. It probably takes two to three years from seed before a plant produces a flower spike. It is, therefore, very important to search carefully for young plants in areas of known infestation. By mid-October new plants will be showing up and the 1991/92 campaign should begin. The whole plant, tuber and all, must be removed and destroyed.
Please, give your name and contact telephone number to the NOSSA Secretary if you can help. You will be notified of the locality where your help is most need.
Or contact me direct – Enid Robertson (She supplied her phone number at that time).
Sadly, eradication is no longer an option, whereas it appeared to be in 1991 when Enid wrote about it.